Skiff GRASS
clean guitar preamp

designed by Igor Shaev
(C) Kaunas, Lithuania 2002




Dis preamp is an illustration of some circuit ideas. Have fun! (-;

Skiff GRASS is a tube/JFET guitar preamp. The main parts are 12AX7 (ECC83) tube and a pair of 2N5457 JFET transistors. It was designed for guitar recording using PC. You can plug this preamp directly to the sound card of your computer. Of course it is possible to use preamp as a ordinary guitar preamp to get a real not distorted tube sound. To my mind it is enough to use two knob tone section (bass and treble). You can modify or replace this section with your favorite one.
This time I decided not to use opamps. I know there are some people who don't like the opamps. This project for you, guys! Preamp is constructed of well-known modules like PAIA "plate voltage" generator, single triode gain stage, cathode follower, tone control section and the famous mini-booster by Jack Orman. Why should I invent bicycle if someone had made it ? :-)
MAIN FEATURES OF PREAMP:
Simple circuit
Only 12V DC "wall wart" power supply need!
Volume, Bass and Treble control knobs
Internal 60V DC "plate voltage" generator
Really available parts
A kind of tube sound :-)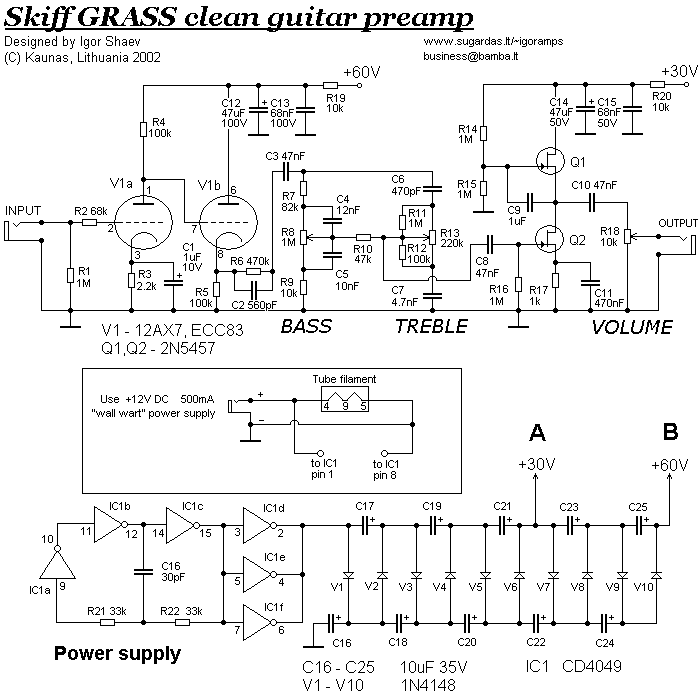 Schematics updated: 14 August, 2002




Sound samples
Please, pay attention! All samples were recorded directly to the PC soundcard!
No speaker or cabinet simulators were used!
I have assembled my tube/JFET preamp second time on the breadbord. I had not put the preamp into the metal
case so you will hear noise in all sound files. Files were recorded using Sonic Foundry Sound Forge. You can use Noise Reduction DirectX plugin, all noise will disappear!
I use ECC83 tube, 12VDC regulated wall-wart power supply. Interesting thing is: I change CD4049 with it's Russian analog K561LN2 (which has worse perfomace). The result is lower power supply output voltage but preamp still sounds clean!

My guitar is Stratocaster (made in Korea) with D'Addario strings.
| | |
| --- | --- |
| IC1 | K561LN2 |
| A | 26V DC |
| B | 39V DC |
Download sound samples in mp3 format above:

sample1
sample2
sample3
sample4



If you have any comments, please email me
Main page is in Russian: http://www.sugardas.lt/~igoramps

Here is a page with "Tube smilies"! Have fun!